with rum and red wine reduction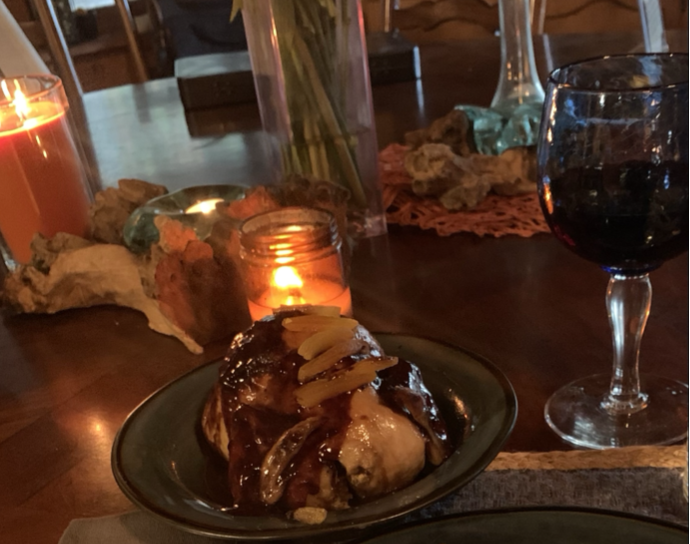 Ingredients:
4 Cornish hens
Balsamic vinegar glaze approximately 6 oz Raw Honey approximately 4 oz
2 diced lemons (Meyer best)
8 diced apricots
4 tbsp golden raisins
4 tbsp dried cranberries
8 sprigs fresh sage
16 sprigs fresh thyme
Infused lemon or citrus olive oil
Salt and pepper
1 box garlic olive oil cous cous (or quinoa) (Optional 4 tbsp salted butter)
Sauce:
3 cups red wine
1 cup dark rum
6 garlic cloves
One bundle fresh thyme
One bundle fresh sage
1 tbsp cornstarch or arrowroot
Prep:
Set sou vide to 150°F, If using the oven to roast preheat to 375°F. Thaw and rinse cornish hens salt and pepper to inside and skin and set aside. Dice apricots into small pieces, chop lemon.
Hen cooking instructions:
Place thyme and sage in hen add apricots (save some for garnish), lemon, raisins, cranberries until full.
Place in souvide with 1 tbsp of butter or oil per hen. Let cook for 4 hr.
Oven instructions:
Drizzle hens with oil and place in roasting pan making certain to leave space between hens. Roast in oven for approx 1 hour or until internal temp reads 165°F.
Finishing Hens:
Remove stuffing and save juices for later use with cous cous.
Drizzle with balsamic glaze and honey and place under broil for approx 8 min until skin is lightly brown watch closely as to not burn.
Reduction instructions:
place rum, red wine, whole garlic cloves and thyme and sage in sauce pan. heat on high until reduced by half. Strain out garlic and herbs. Place corn starch in small dish and add small amount of red wine stir until liquid then add to sauce to thicken.
Stuffing:
Make cous cous per package instructions. Add stuffing material and mix together. Add juices from hen to desired consistency and flavor.
Serve hen drizzled with sauce reduction and apricot to garnish stuffing on the side. Enjoy!